Marketing is impossible without great content
Why is content so important?
Businesses are constantly seeking better ways to engage with their customers, content marketing offers just that, through the creation of high quality engaging and relevant content.
The premise behind content marketing is that if you communicate with your customers, delivering valuable, engaging content consistently then your customers reward you with their business and loyalty.
According to the Content Marketing Institute, 80% of people prefer to get company information from helpful online articles rather than an advertisement. 70% of these people also say that content marketing makes them feel closer to the company, and 60% say that company content helps them make better product decisions – with those sort of stats it's really a no-brainer!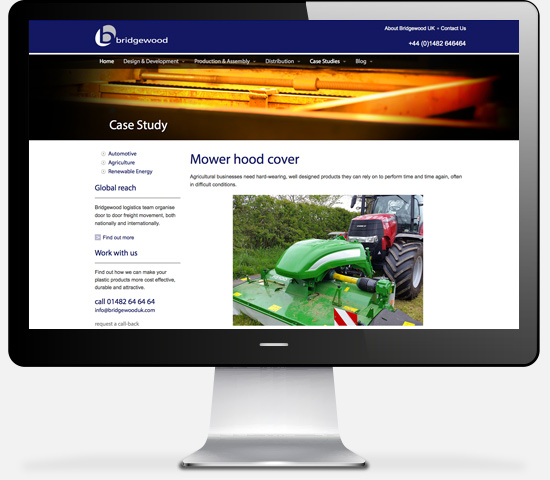 What type of content to create?
Great content comes in a variety of different forms. Many people see content as blog posts alone but it can also include:
Case studies
Guides and white papers
Interactive tools
Infographics
Videos
We will develop a content marketing strategy bespoke to your company's needs. The content we create for your brand should appeal to your audience and benefit them, so we'll put together a plan that will be unique to you and your customers' interests and needs.
We help tell your story, building strong relationships with your customers to ensure they keep coming back time and time again. Lastly, we effectively measure the impact our activities, working with you to carefully build upon the strategy already in place.
This isn't a hard sell tactic, in fact, the right sort of content should either solve a problem for your customers or provoke an emotion.
Integrated marketing
The majority of online marketing tactics are impossible without having great quality content regularly posted to your website, content plays a huge role in all forms of online marketing and can also enhance your offline marketing activities.
Here are some reasons why great quality content will support and improve your other marketing efforts too:
Social media – quality content is the backbone of any successful social media strategy as it gives you more to share with your community and leads to increased website traffic.
Organic search – when you publish high-quality content consistently, it has a strong influence on your website's presence on search engines such as Google.
Paid search – for PPC campaigns to work, they need to be backed up with great content in both your ads and on your landing pages.
Public relations – PR strategies need to address issues that readers care about, so having great content behind any PR strategy is essential for its success.
Inbound marketing – content is key to driving inbound traffic and leads and keeping potential customers coming back for more.
We think like you do.
Just digitally.
We're Exact Marketing based in Doncaster. We're passionate about content marketing, helping local business and national companies improve their online performance.
Interested?  Let's chat…
Talk to us about social media marketing, call 01302 365165 today.