The benefits of 'paid' search engine marketing
Pay Per Click or PPC advertising using packages such as Google AdWords, is a tremendous way to quickly attract new visitors to your website, measure performance & keep in control of your budget.
Simply display your ads on the various paid advertising platforms and drive targeted traffic to your website. One of the great attractions of pay-per-click or cost-per-click advertising is the ability to see exactly how your campaigns, ads and individual keywords are performing on a daily basis. Given this ability, Pay Per Click marketing offers an unrivalled platform for measuring the return on your investment.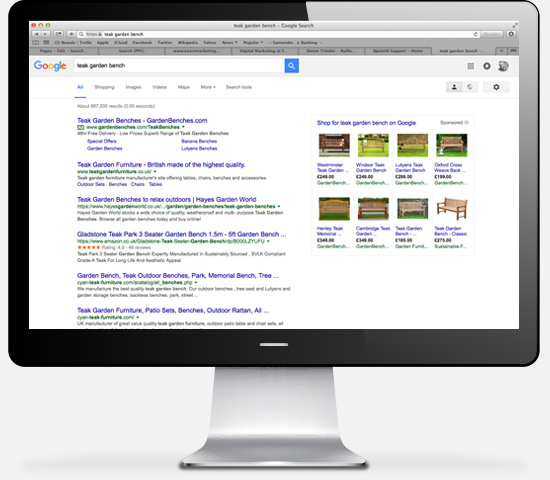 Why work with a PPC marketing agency?
Working with online marketing specialists such as Exact Marketing will help you to achieve your objectives much quicker than 'learning the ropes' yourself. We will help in the creation, monitoring, optimisation and reporting on your PPC activities through a combination of:
Finding the right keywords – which attract the most relevant customer to your website.
Writing effective ads – to get a high click through rate and minimise unwanted traffic.
Manage your account effectively – by optimising the performance of each campaign.
Make your ads more relevant – by pinpointing profitable keywords and those that do not convert into the desired action.
KPI Optimisation – we understand how a successful campaign works, that's why we always aim for the lowest CPC at the highest CTR for every budget.
Exact Marketing, going the extra mile
It takes knowledge and experience to deliver a successful PPC campaign, choosing the right marketing agency is a great place to start.
We believe that your success is our success, so we will always aim to further improve your campaign from ad extensions, quality score management and studying trends of each campaign to get the best results possible. We also link Google Adwords to Analytic accounts to analyse the behaviour of your website and to see how we can help improve and move forward.
Support packages
Our monthly support packages can be tailored to suit any budget and typically include monitoring, optimisation and reporting services.
We think like you do.
Just digitally.
We're Exact Marketing based in Doncaster. We have years of hands on experience with social media marketing, helping local business and national companies improve their online performance.
Interested?  Let's chat…
Talk to us about social media marketing, call 01302 365165 today.